Project:
Ola K Asker
We propose a new self-sufficient city where tradition and technology co-exist. Inhabitants' participation in all steps is key for Dikemark's continuous adaptation to changing circumstances.

About
We are asked to develop the adaptable city of this century, and in order to accomplish it; we have to create the "heritage of the future". We are developing a heritage of an open source city called Dikemark, which can be edited and transformed by us, its own heirs. Thanks to our educational system for wood-based studies, we acquire the tools to continue with the city's growth. We do not believe in strong and tight rules since their rigidness ultimately limits Dikemark's natural growth. We rather assume that we (the citizens) own this power ourselves. We are the ones who ought to learn how to live and create our own city.

We propose a new self-sufficient city where tradition and technology co-exist. Inhabitants' participation in all steps is key for Dikemark's continuous adaptation to changing circumstances. In this iterative process, one needs to learn how to make best use of the city. This developing know-how allows you to eventually incorporate inherited traditions.

1. Site density:

The site will be kept low in density, as in its current state. In time, Dikemark will grow following a network structure that will connect the existing buildings. This grid is the optimal trade-off between a minimal distance and a maximal connection. At the same time, it frees the circulation that already exists.

2. Vegetation:

The first stage of growth will be driven by the existing forest struc- ture. In a second stage, we will extend the forest's area to reach a healthy balance of wood consumption and construction. The final stage consists in culturing the cycle's harmony.

3. Architecture:

It is based upon the conservation of buildings with healthy structures accom- panied by assigning a new use. For all other structures that are to be conserved for their original use, we will perform a smart rehabilitation in energy building. Either way, all kind of new interventions will related to existing built fabric. To keep the ecological footprint small, these interventions will be realized with minimal occupation of the site.

Hello Friends! Welcome To The Dikemark's Community!


In Dikemark ́s neighborhood we believe that every citizen counts! We can only build our success with the active participation of each individual citizen. In essence, it means taking part in our city's growth and constructing from the scratch, learning and transmitting our acquired knowledge to the next generation.


This proposal offers a new conceptual model for Asker, in order to infuse identity and development in the local community. It is indeed a very interesting and distinct project that relies on a specific material, wood, as the identity trigger of the project. This identity-related strategy was considered a strong value, although wood was very far from been a satisfactory choice, since the area does not have actual potentials related to wood industry. It, however, could be easily replaced by other activities. Therefore the general strategy was valued, but not its specifics.

The project stresses the issue of adaptability and sustainability in a very consistent way, but the bottom-up strategy within the project is maybe too slow for what the area needs.


A supplementary top-down strategy that allowed for a quick enhancement of the needed growth would have been highly appreciated. The proposed reprogramming of the existing buildings would probably not be enough for the much-needed kickoff action. In general terms, although the overall strategy made sense for some of the jury members, it was agreed that the proposed soft and random occupation protocol was very problematic for a successful implementation.

Finally, the architectural proposal is interesting in a way that is consistent with the bottom-up tactics at the core of the project. In broad terms, it was valued more as a software than a hardware proposal, in a site that nevertheless is in critical need for new structures.

Team Representative: Jose Maria Martín Ravelo (ES) – architect; Associate: Alba García González (ES), Paloma Lara Rodrigo (ES), Laura Martín Guillén (ES), Patxi Martín Domínguez (ES), Clara Rodríguez Lorenzo(ES), Natalia Vera Vigaray (ES) – architects

c/ Magdalena 8, 3 izq., 28012 Madrid – España
+34 63 050 78 69 – jmmravelo@gmail.com

N. Vera Vigaray, L. Martín Guillén, P. Martín Domínguez, C. Rodríguez Lorenzo, J. M. Martín Ravelo, A. García González and P. Lara Rodrigo




Team interview
1. How did you form the team for the competition?
We met each other at university and we decided to form a team just to do Europan 12, so it was the first time we had worked together and it was the beginning of FRSQR architecture.
2. How do you define the main issue of your project, insisting on how you answered on the site on this session main topic: adaptability and urban rhythms?
We think Dikemark should have a slow growth that lays the foundations for a new local society. We based our project on the introduction of a new program that activates the village, a new Dikemark age; A wood design school that attracts people to live there and will take part in the development of the future settlements.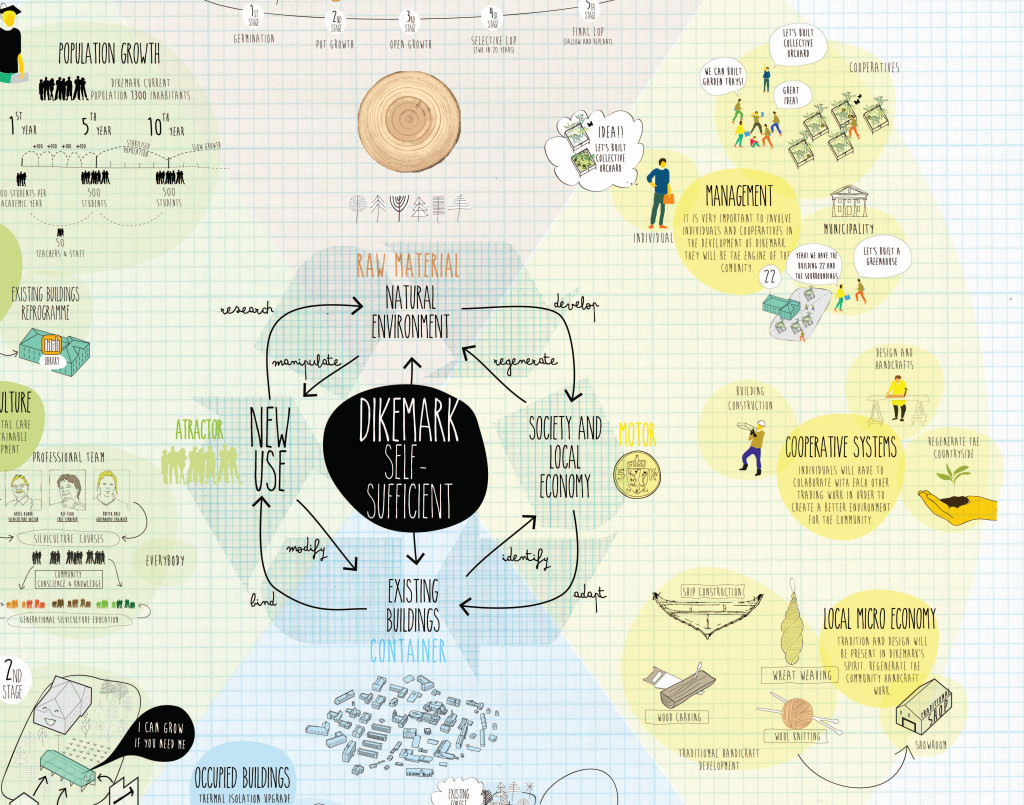 3. How did this issue and the questions raised by the site mutation meet?
We developed a project in different steps. In the first step we proposed to refurbish the existing empty buildings of the former sanatory, converting them into buildings for the new school. In further steps we proposed to build with a minimal footprint, respecting the historical growth and the presence of forests between constructions.

4. Have you already treated this issue previously and could you present some reference projects that inspired yours?
We believe adaptability is a very up-to-date topic and it is always considered in all our projects. It has however been studied by many architects throughout time and it materialized in some examples such as Quinta Monroy by Elemental and Ökohaus by Frei Otto, where the projects emerge from the peoples participation and needs. And Matadero, located in Madrid, is an example of transformation of an old structure of the city into a new cultural centre.


5. Today –within the era of an economic crisis and sustainability– the urban-architectural project should reconsider its production method in time; how did you integrate this issue in your project?
Our project was thought from the beginning as a temporal process that was going to be developed depending on the population needs and investors sources. We realized Dikemark has already lived different ages throughout time, and It has always maintained some situations from the different periods, sometimes it remained the same and sometimes they were totally transformed by new uses. As there is already a huge historical basis we wanted a slow growth that respects the current situations in every step and acts with a very local sense.
6. Is is the first time you have been awarded a prize at Europan? How could this help you in your professional career?
It is the first time we have been awarded an Europan prize. Facing this challenge has allowed us to grow up as a team and has motivated us to continue developing ideas. We expect this prize to bring us new opportunities to work on new projects.