Project:
More Trondheim!
For a fair, inclusive and lively urbanity, towards the post neoliberal city!

About
AGENDA


The proposal concerns itself with mainly three points:


1) A spatial organization that sees the urban development of strandvejkaia as an extension of the existing urban fabric, establishing a series of varied public spaces
2) A strategy for architectonic and programmatic metabolism where a varied programme of the everyday life is woven into both new and existing buildings.
3) The role and potential of rethinking the welfare institutions in an urban development context.


Team Point of View

"More Trondheim!" sees the project site not as a place to establish its own constructed order, but as a place to embraces the true city, with all its complexities, contradictions and conflicts of space and interest, extending the existing urban fabric –unordered and unruly as might be– onto the harbour site.

Economy – The proposal recognizes the fact that urban planning today is conditioned by monetary interests of big developer companies. Rather than denying this truth the projects tries to see this as a latent potential.
It embeds smaller fractions of "plots to be sold" throughout the project site – seeking to establish dense, spatial qualities at an urban scale. Creating coherent and co-dependent spatial relationships in disregard of economical ones.

Program – "MORE Trondheim" recognizes the self-grown variety of programs that populate the harbour site. As development goes on, the proposal mostly inserts everyday life program into the plan – kindergarten, supermarket, fitness-centre, housing for the elderly. The project seeks to challenge the spatial and architectonic possibilities of these mundane types. The consequence is a three-dimensional public sphere that lives and moves, disregarding the boundaries of volumes and institutions – the varied program of everyday life is woven into both new and existing buildings. "More Trondheim!" is just that –the qualities of the existing city brought together in 4 dimensions.

The project addresses fundamental discussions for spatial production in Norway and beyond by investigating the site in relation to topics such as the future of the welfare state and the role of institutions within it, the mechanisms of the real estate market, and demographic change. As a way to open the site up for a new, anti-speculative, development, the site is broken down into smaller units, allowing for the participation of other economic actors. Elsewhere, the reconsideration of specific functions are used to illustrate a rethinking of their current status and use: a kindergarten, for example, is used as a case study to show how future welfare provision is expanded through the addition of other uses and functions. Likewise, the growing role of the elderly population is explored – understanding them as catalysts and resources in the urban scene by atomizing the provisions of an elderly home throughout the site.

The agenda, analysis and critical questions concerning gentrification are not only timely but also relevant for Strandveikaia. In particular the cultural actors currently on site gain a prominent position within this proposal. The authors argue that the temporary should be permanent when discussing the current actors at site and try to describe and visualize an anti-speculative development process and a "gradual development from within". The jury thinks the result of the project's thesis is successful portrayed in the case studies shown and could serve as an inspiration for further processes on the site, or could be tested in other locations in Trondheim.

Team Representative: Dominique Hauderowicz (DK) – architect; Associate: Kristian Ly Serena (DK) – architect

Studio Fountainhead, Fredriksborgvej 64, 2400 København – Danmark
+45 20979923 – info@studiofountainhead.dk - www.studiofountainhead.dk


K. Ly Serena & D. Hauderowicz
Team interview
1. How did you form the team for the competition?
Studio Fountainhead is an architectural office based in Copenhagen, founded by Dominique Hauderowicz and Kristian Ly Serena in 2013.
2. How do you define the main issue of your project, and how did you answer on this session main topic: Adaptability through Self-Organization, Sharing and/or Project (Process)?
Our projects' main focus is 'Adaptability' - we have tried to deal with this notion in different ways and scales throughout the project. It was important for us to develop a series of ideas and concepts that are robust - a solid framework that allows various things to happen.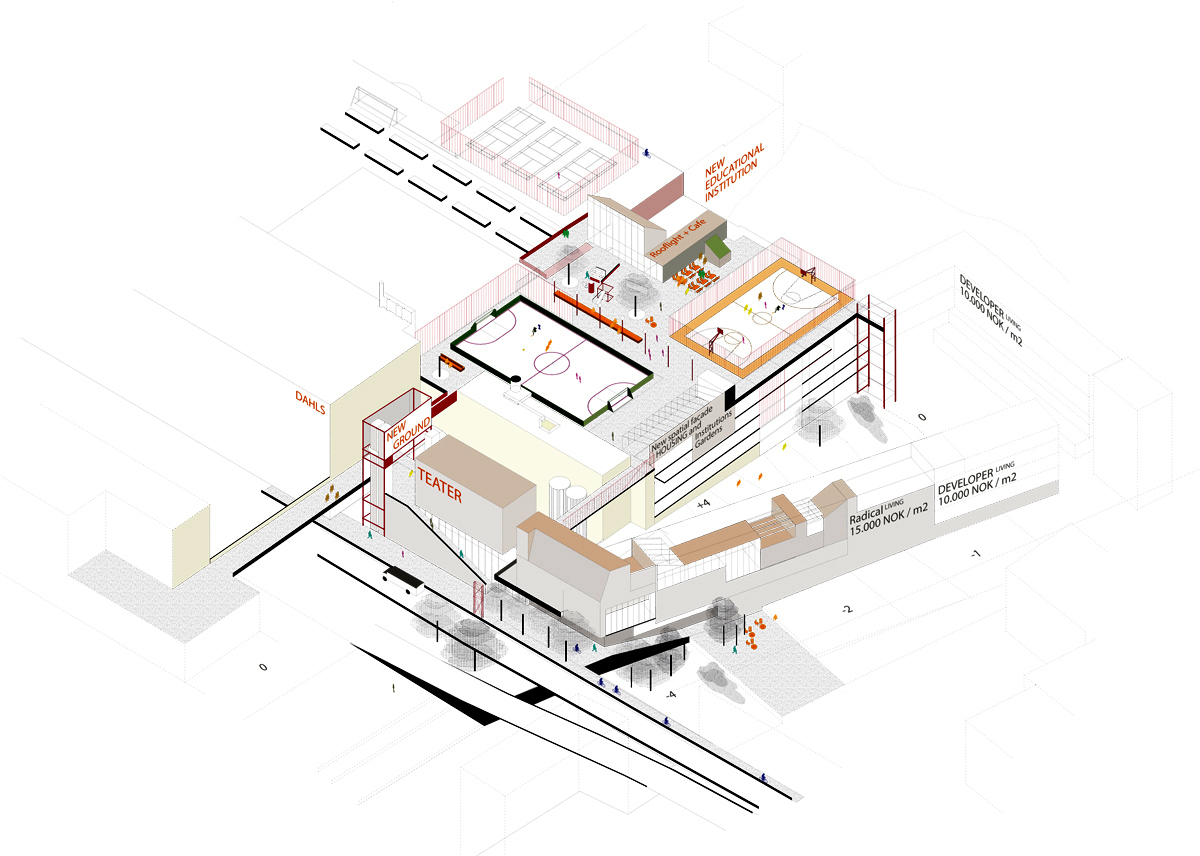 3. How did this issue and the questions raised by the site mutation meet?
The theme of adaptability and the site in Trondheim was a very good match. The site has a lot of potential and there are various actors and frameworks of time in action at the same time. Because the area is large and the site is part of an even bigger masterplan, it was important to work with strategies –both programmatic and spatial– that could develop over time, instead of just proposing a finished masterplan.


4. Have you treated this issue previously? What were the reference projects that inspired yours?
In our work we take great interest in the development of architecture and urban space that address democratic values and potentials in different ways. The office builds upon an understanding of architecture not only as a way of design, but as a way of promoting interaction and manifestation of these values. The Studio's work emphasizes on untraditional mixes of programmes and economic interests, such as our rewarded proposal for the Guggenheim museum in Helsinki. We try to work with the complexities in our field, not to simplify them – but to embrace work with things that are complex and unruly.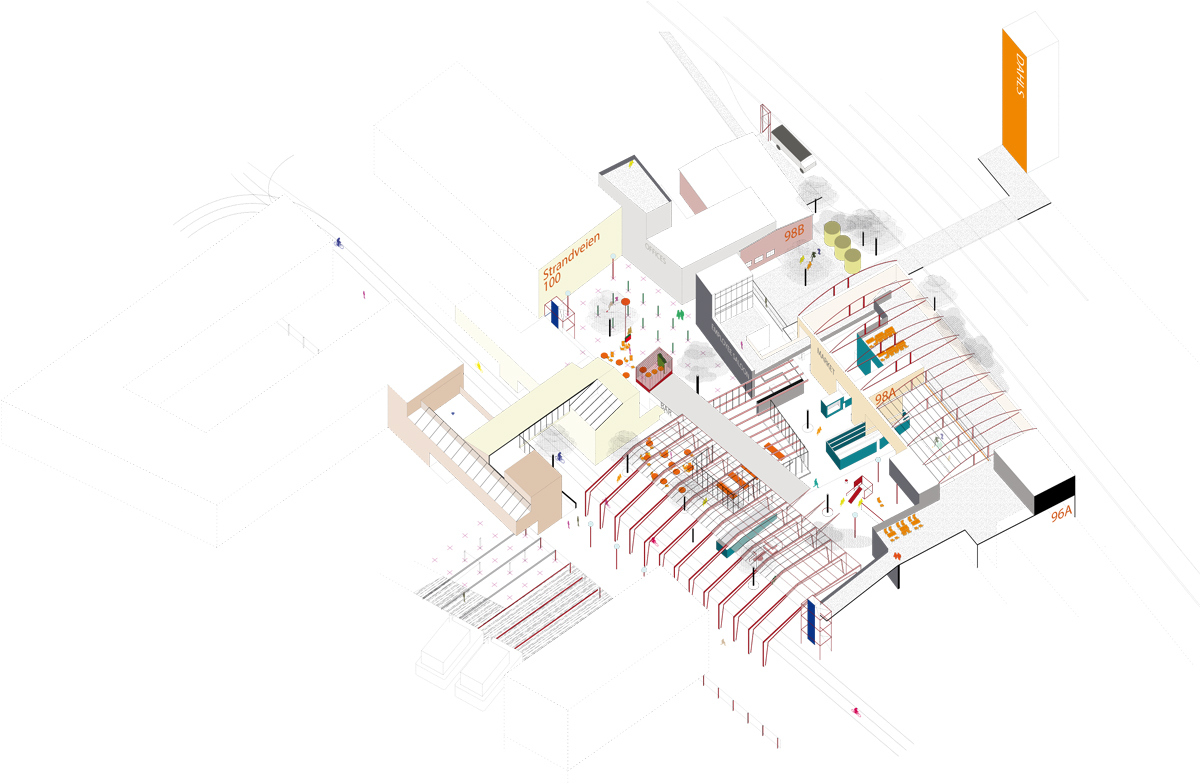 5. Today –at the era of economic crisis and sustainability– the urban-architectural project should reconsider its production method in time; how did you integrate this issue in your project?
Our work adresses a number of issues that we feel are very current and "post 2008", so to say. We definitely try to see our work as part of dealing with these current issues – regarding rising prizes, rising mortgage rates, segregation of demographic and economic groups etc. Having a Scandinavian background we take great interest in the role of the welfare state and how it can be developed to be sustainable, also economically in the future. All of these issues are very important to us and we do believe that we should,and can deal with them in and through architecture.


6. Is it the first time you have been awarded a prize at Europan? How could this help you in your professional career?
Yes, it is our first time participating in Europan, and thus our first rewarded project. The competition has a very interesting format and very skilled organizers and jurors. We of course hope that we will be able to further develop our work in collaboration with the commune of Trondheim, as we think this is a great opportunity to develop an important area of the city. Furthermore it means a lot to us to be able to showcase our work in an international forum.