Project:
Lanterner
The Lanterner project articulates the incremental and uncertain development of Rødberg over time, incorporating the public realm, the landscape and architectural projects at multiple scales.

About
Productivity in Rødberg is almost a paradox, considering that the municipality has been chosen by basically 5% of all Norwegians as a place for free time. A place worth building a second home, to go on vacation, rest, escape from work and productivity itself.

Thus, this is a chance to overcome assumptions and instead to craft a new concept of productivity, tuned to today's needs and more liquid lifestyles. This new concept expands the domain of work and completely incorporates the dimension of free-time. It's a complete merge, with very little exception.

For this new kind of productivity, material substance, immaterial desires and ambitions are also merged and interchangable, old oppositions are totally overcome. Fun, knowledge, nature, sport, leisure are as important as traditional work, and are actually source and matter of today's work, as well as important ingredients in achieving a balanced environment.

The byproduct that we expect from this new productive city is the involvement of many new actors, beyond the traditional and dialectical scheme of investors and inhabitants. Tourist and researchers may play an active role in rethinking productivity in contemporary terms.

With a new system of production, that fully embodies this plurality of domanis, we expect that the production will thrive and multiply in a plurality of ways. We also expect that many of these new ways, still to be forged, will unexpectedly sprout.

Production could be the excuse to build up an archive or a monitoring system. Production could be an occasion to set up an exhibition or a temporary event. Production is the perfect excuse to move from a place to another and to meet people that share the same interests, skills or even roots. Production is the perfect excuse to build a city.


The "Lanterner" project articulates the incremental and uncertain development of Rødberg over time, incorporating the public realm, the landscape and architectural projects at multiple scales. Having the qualities of a menu, Lanterner provides the city with multiple choices and provocations united under the single narrative of the lantern. In this context, Lanterns are not just spaces but metaphoric and temporal interventions that initiate and test future spatial and programmatic possibilities.



Sara Angelini (IT), landscaper
Alessio Valmori (IT), urbanist
Dania Marzo (IT), architect

Contact information: de Gayardon Bureau www.degayardonbureau.com
degayardonmailbox@gmail.com

Team interview
1. How did you form the team for the competition?
de Gayardon Bureau is an office for Architecture, Landscape and Cities which grounds its activity on competitions. We participate in multiple competitions (from 5 to 8 per year) and our field of action includes all of Europe and focuses particularly on Norway. Europan has always been an appointment to which we are glad to attend and we believe that among international competitions it is able to provide a great combination of: sound international framework, interesting content expressed in relevant issues, and high quality management / organization / juries. We like to invest our time and measure ourselves with our European colleagues on important topics and themes such as the productive city.

2. How do you define the main issue of your project, and how did you answer on this session main topic: the place of productive activities within the city?
To interrogate ourselves on the actual meaning of the concept of production, was an important starting point for our work; this lead us to question its limits and extents in the contemporary domain. Thinking about history, the built environment of the city has always welcomed new activities (even heavy ones) by adaptation, in most cases compromising the health and livability of its spaces. Today production, especially in the post-industrial west, does not necessarily mean manufacturing materials or goods. Production today embraces the immaterial: it's about giving opportunities for higher services and generation of well-being to everyone, as much as possible.

3. How did this issue and the questions raised by the site mutation meet?
Rødberg has linked its existence to the Iconic Hydroelectric power plant of Nore1, our project tries to project the city's fate to a bright, active and livable new century. The town has productivity in its DNA, it just needs to update its means to a transformed contemporary landscape. Productive activities in the city will thus produce fields of research and data collection, pretexts for making cultural aspects visibile and productive, involving both residents and tourists, as well as the new inhabitants. The vision of the new productive city is a complex intertwining of different actors and symbolic trajectories. Rødberg is a small town in the middle of a highly touristic landscape. It poses challenges related to low intensity of uses and poor state of in-between spaces, dominated by car traffic and fragmented by topography. The response was to sharply increase public space quality, through accessibility, generosity of space and stronger integration to the natural setting. This new fine-weaved fabric of connections and beautiful spaces to stay, was then the perfect canvas for a solid strategy of intensification of productive programs and uses.

4. Have you treated this issue previously? What were the reference projects that inspired yours?
For an office that deals with urban transformations, the theme of the productive city is constant. Economic sustainability combined with urban and social sustainability is a crucial node for the success of a good project and process. A project the Bureau developed for the city of Ravenna, in which a new plant nursery was to become a catalyst for local artisan activities, urban gardening and cultural events, all under one transparent roof, is probably a relevant antecedent for our proposal for Rødberg. This Ravenna project dealt with a site in the former industrial area of the city, an urban void where informal vegetable gardens had been established. The approach to the project was to intensify the site character in a productive key, putting its attitude into action within a large nursery greenhouse. Great source of inspiration for these strategy was the theoretic input by studio Location and Vassal on the matter of 'floors' and 'climate', namely "creating new floor surface, with mitigated climate control" as minimum means for architecture to exist. This reductionist and elementary inspiration was perfectly suitable for a strategy of urban acupuncture: a series of fragile architectures that can host new programs and vegetation. The strategy we chose for the Lanterner project in Rødberg. 
5. Urban-architectural projects like the ones in Europan can only be implemented together with the actors through a negotiated process and in time. How did you consider this issue in your project?
We tried to aim for a clear vision of a new productive city: one that embraces the immaterial and the dimension of leisure, promotes high quality places, social interaction and inclusion. We believed and firmly suggested that the strategy to achieve this new paradigm in Rødberg must deal with an upgrade of its urban spaces: creating a strong and coherent network of qualitative public spaces, healing the current condition of fragmentation, bridging the different islands of the town together into one, and creating a solid base for new programmatic implementation. It is a complex task, that requires negotiation, time and the necessary flexibility for a fruitful implementation. Therefore we tried to respond to the plurality of issues, actors and demands through a tool box of possibilities. The toolbox is a catalogue from which to draw or be inspired to imagine multiple scenarios; it is a strategy for dealing with complexity, allowing productive dialogue and tailor-made solutions.

6. Is it the first time you have been awarded a prize at Europan? How could this help you in your professional career?
It is the second time that we are awarded as runner-up by Europan (de Gayardon Bureau was runner up in 2015, Marl (DE) – The Adaptable city 2). It is always a great honor and prestige, especially towards our colleagues. We believe that Europan is an important moment of evaluation and confrontation rather than a real stage, for us it has always been more important to measure ourselves on the themes than to show off any title. We believe that for the scale at which we operate, the construction and realization aspects are not immediate, but we are also hopeful that Europan will be the beginning of a process of study and preparation to ensure that change and the productive city can take place in the medium-long term.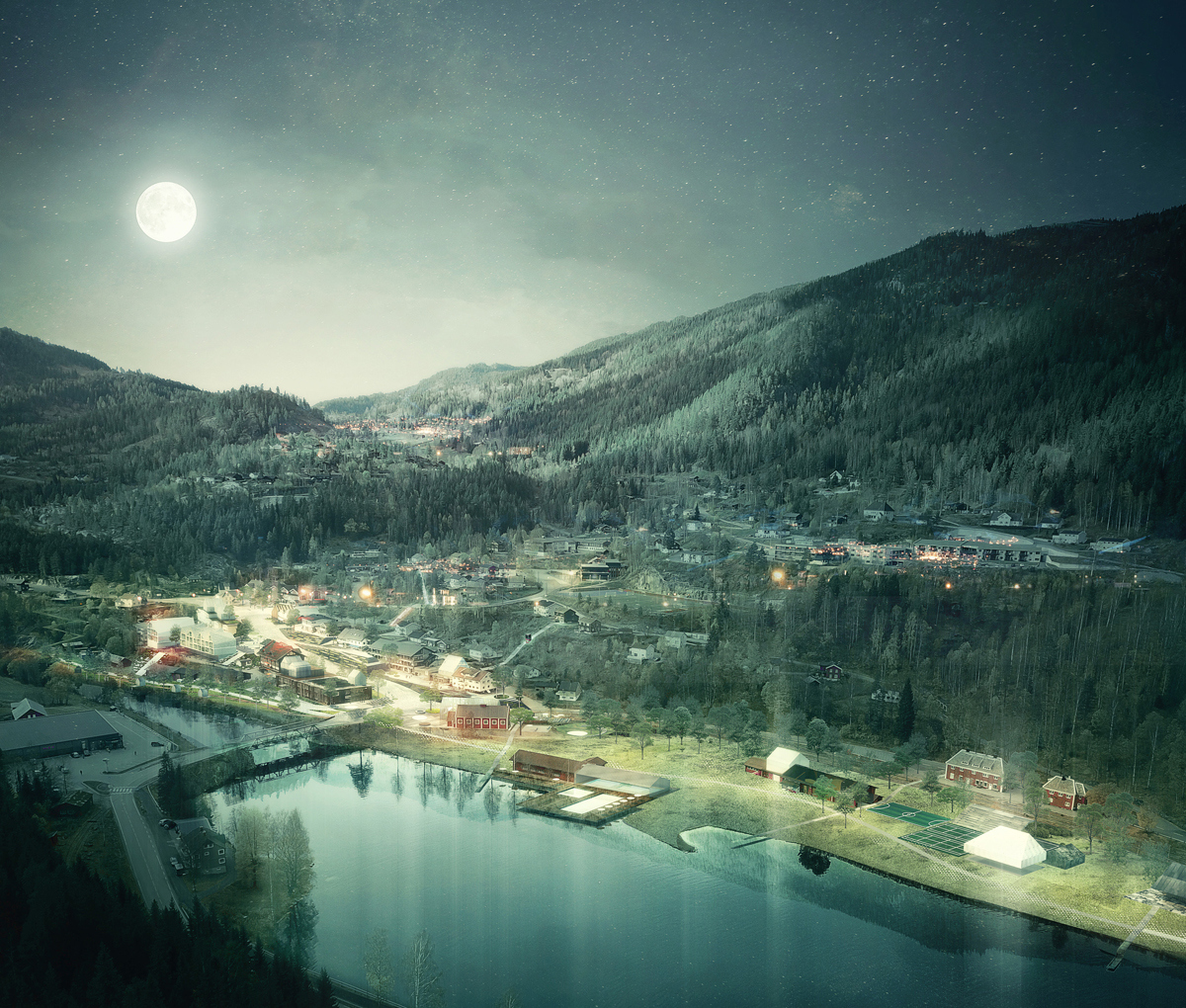 TEAM IDENTITY
Office: de Gayardon Bureau
Functions: Landscape architecture, urban planning, architecture
Average age of the associates: 36 years old
Has your team, together or separately, already conceived or implemented some projects and/or won any competition? If yes, which ones?
2018 - 2nd Prize - Gjøvik (NO) - Huntonstranda masterplan - Hunton kanalby - Open Idea Competition

2017 - 2nd Prize - Aviano (IT) - Primary school - The Innovative School - National Competition from MIUR - Italian Ministery of Public Education

1st Prize – Como (IT) - The Regeneration of the Historical Public Gardens in the Como Lake – in collaboration with ARUP - Open Idea Competition

Runner Up - Sogin (IT) - Masterplan of a Science and Tecnologic campus in collaboration with the office La prima stanza - Open Idea Competition

2016 – 3rd Prize - Oslo (NO) - Trygve Lies Square - The Nordic Built Cities Challenge International idea competition

1st Prize – Jazzi (IT) - The Regeneration of Jazzi in Camerota (IT) in collaboration with the artist Andreco - Open idea competition

2015 - 1st Prize - Wiener Neustadt (AT) - Landfill regeneration in a natural reserve - Open Idea Competition

2nd prize - Europan 13 - Marl (DE) - The adaptable city 2 - Green Gray Factor - Open Idea Competition

Competition Award + Public Commission - Ravenna (IT) - ORANGERIE 10% Preservation and intensification project for informal - urban orchards in Ravenna docks area

2014 - 2nd Prize - Kragero (NO) - Kragero church area - Open Idea Competition

2nd Phase Competition - Neustadt am Kulm (DE) - The new Market Square - Restricted Design Competition

2018 - Biennale di Venezia (IT). Venice - Exhibition Arcipelago Italia - Regeneration of Jazzi in Camerota

2017 - First prize for the sustainable project of a landscape canopy in Rimini - Climate-KIC Italy Workshop