This weekend, the Europan Forum for Cities and Juries took place in Vienna. Europan Norway lead a delegation of 31 people representing our five sites; Larvik, Trondheim, NTNU, Karmøy and Arendal, our jury and some of our partners: NMBU and AHO.

Europan is an international co-creation process for urban development. The power of working together across borders and silos is no clearer than when 400 politicians, architects, landscape architects, climate researchers, developers, and urbanists from across the continent come together to discuss concrete projects and solutions.
On Thursday, Europan Norway organized a discussion on what architectural competitions mean for the architectural profession, in collaboration with TU Wien and Europan Austria. Bjørnar Haveland led the discussion, and Eli Grønn, Jacob Kamp, and Benni Eder captivated a packed room of young architects.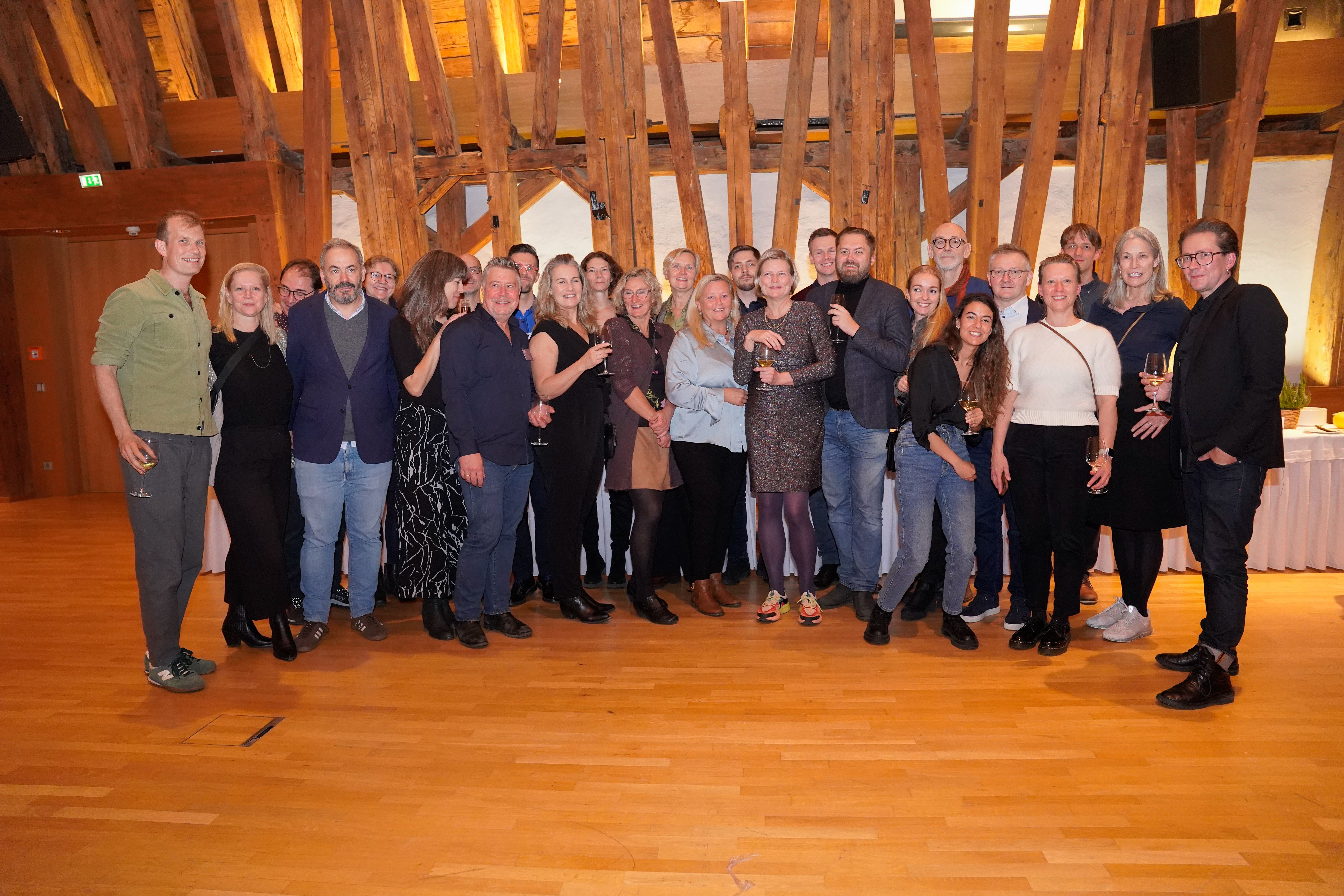 On Friday, we visited Wiltgarden and Oasis 22, two built Europan projects that challenge norms of ownership structures and what is private/public. The conference focused on how to design effective and rapid processes to retain the central qualities in an innovation project when moving from idea to process and implementation.
On Saturday, the finalists for all 50 Europan 17 competitions were exhibited. More than 175 projects, 525 beautiful, detailed posters were displayed in the same room. Interdisciplinary working groups compared the proposals and solutions that came in for the different sites.
Sunday was the final day. The Norwegian jury met for the last jury meeting to select the winners for the Norwegian sites. The results will be announced on December 4th!
Thanks to our talented jury who have truly worked hard to give their very best to both the projects and the clients.
Thanks to the representatives of our 5 sites who have engaged in a long and intensive process, allowed themselves to be challenged, and are now planning how to take the results from the competition further.
The E17 jury
The jury selecting the winners on the norwegian sites for Europan 17.
Ida Winge Andersen (NO)

Ida Winge holds a master's degree from Lund and Oslo (2004). In 2005 she won Europan 8 Kirkenes with Ines Almeida and has since then worked as an architect, teacher, lecturer, and critic. She has gained significant experience both as an architect and company leader at Ghilardi+Hellsten and since 2017 as head of the Oslo-based architectural firm Rebuilding, specializing in transformative reuse. Ida has a unique expertise in urban revitalization and preservation and believes that any structure should be seen as an asset. Her work spans from smaller temporary projects to large urban developments, like Aker Brygge, the post-modern complex St Olav in Stavanger, and large-scale strategic development in Kiruna.

Jacob Kamp (DK)

Jacob Kamp is a renowned Danish landscape architect; as head of 1:1 Landskab he has distinguished himself with a number of won competitions and award-winning projects. Jacob studied landscape architecture at the Royal Veterinary and Agricultual University in Copenhagen and the École Nationale Superièure du Paysage in Versailles, France. I parallel with his practice he has been Chairman of the Association of landscape architects in Denmark, and is currently member of the royal academy's council, the adviser of the Danish State on aesthetic and artistic issues. He has since 2011 served as external juror in a number of large architectural competitions across denmark.He is external examiner for landscape architecture and planning at the architectural schools in Copenhagen and Aarhus and at the university in Copenhagen.

Eli Grønn (NO)

Eli Grønn completed a Master's in architecture at Trondheim University (NTNU) in 2007 and Masters's of Urbanism at Barcelona ETSAB in 2012. Eli has worked with three Europan competitions, Sion (CH) E9, Oslo (NO) E11, and Irun (ES) E13. All of these submissions were finalists and have been further developed for clients. Eli has international experience through her work and studies. She is now partner at Dyrvik Architects. The practice is engaged in architecture from early planning studies through to detailed design and construction. The practice has a particular focus on how architecture and urbanism influence the day-to-day lives of the populace. Eli is an active and engaged professional with a particular interest in the processes of urban transformation and its effect on the wider community.

Ilkka Törmä (FI)

Ilkka Törmä works within urban design and city planning at Tommila Architects in Helsinki. He has an extensive experience in competitions and master plans, often for heritage sites, such as a ceramic factory block in Helsinki. Ilkka's research has focused on urban heritage. He explores how the dynamic relationship between architecture and public life evolves. He has studied how Victorian high streets have adapted in London and how a Mexican historical square functioned socially and culturally. Ilkka has taught, lectured, and been a guest critic in Finland, England, and Mexico. He has founded Mushrooming, an award-winning online agent for creative workspaces. Ilkka's most recent project is Outlines, a forum he founded to promote dialogue in Finnish landscape architecture and urban design.

Luis Basabe Montalvo (ES)

Luis Basabe Montalvo (1975) has been teaching architecture and urban design at ETSAM (Madrid) since 2003. From 2014 to 2018 he has been Visiting Professor of Architecture and Urban Design at Politecnico di Milano. He is a founding partner of ARENAS BASABE PALACIOS ARQUITECTOS, an office for architecture and urbanism based in Madrid, with projects in different European countries. Their work has obtained numerous distinctions, such as the COAM-Prize in 2022, the Holcim Award Bronze Europe in 2014, or the EUROPAN competition, in which they have been awarded six times.

Katariina Haigh (FI)

Katariina Haigh graduated as a housing design major in 2002 from Helsinki University of Technology, also carrying out studies at Tampere University of Technology and the Ecole d'Architecture de Paris-Belleville. She started her career in urban planning as the city architect of Lohja, a medium-sized town in Southern Finland. Looking to refocus on real estate development, Katariina then undertook real estate economy studies before working in management and executive roles at the Nordic construction company NCC. She then joined Nordic housing developer Bonava and later Asuntosäätiö, a non-profit organization that has a long history as a city developer and holds one of the largest Finnish housing portfolios. As a project development director, Katariina's responsibilities cover land acquisition, portfolio management, and real estate development.

Eili Vigestad Berge (NO)

Eili Vigestad Berge is currently the director of sustainability and public relations at Mustad Eiendom. Mustad Eiendom is redeveloping a large urban area, Lilleakerbyen, by Norway's third largest transport hub. Eili has previously held several positions within urban development and sustainability, including Head of Concept Development at Bane NOR Eiendom, Project Manager for the FutureBuilt program in the Municipality of Oslo, and for the Norwegian Green Building Council. Eili was in charge of developing an innovation program to promote sustainable solutions for the building sector at Nordic Innovation. Eili has also worked as Political Advisor for Venstre, the Norwegian Liberal Party. Eili holds a Master's degree in Communication from the University of Brighton, in addition to a Cand. Mag. degree in social sciences from the University of Oslo.